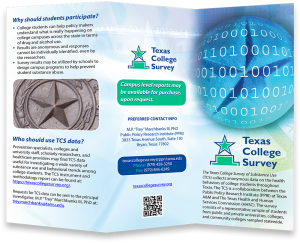 T
he Texas College Survey of Substance Use is an example of what can be accomplished by integrating public policy objectives with academic research. The survey is sponsored by the Texas Health and Human Services Commission (HHSC) and has been facilitated by the staff of the Public Policy Research Institute (PPRI) at Texas A&M University since its inception in 1997.
Similarly, PPRI also administers for HHSC the Texas School Survey of Drug and Alcohol Use, an annual collection of self-reported tobacco, alcohol, inhalant, and substance (both licit and illicit) use data from students throughout the state of Texas.
The Public Policy Research Institute (PPRI) is an academic research organization conducting public policy research on a variety of social, economic, and civil issues. PPRI staff conduct grant and contract research at the international, national, state, and local levels. The following PPRI staff members are responsible for the Texas College Survey of Substance Use:
M.P. "Trey" Marchbanks III, Ph.D., is an Associate Research Scientist at PPRI, and is the Principal Investigator for the Texas College Survey of Substance Use. Dr. Marchbanks has significant methodological expertise and specializes in using advanced statistical techniques to answer public policy questions. He has been involved in many surveys involving students, teachers and school staff. His work on education policy has been featured in the New York Times, Washington Post and Austin American-Statesman and on NPR and CNN. He has also presented his work at the United Nations.
Kash Krinhop is the Assistant Director at PPRI. He has worked at PPRI since 1999 and is the project manager for the Texas College Survey of Substance Use. Mr. Krinhop assists the PI with sponsor communications, acquisition of email sample, survey administration, quality control of the deliverables and final report, and supervision of support staff.
Aaron Williams is an IT Consultant for PPRI. He has a background in systems administration, demographic research, and data analysis. Experience includes collecting research data through interview strategies, conducting focus groups, and utilizing web-based information resources. He has served at PPRI since 2005 and his responsibilities on the Texas College Survey of Substance Use include recruitment, instrument programming, data collection, reporting, and website maintenance.
Visit the website for the Public Policy Research Institute at http://ppri.tamu.edu .